Medium and large wastewater treatment systems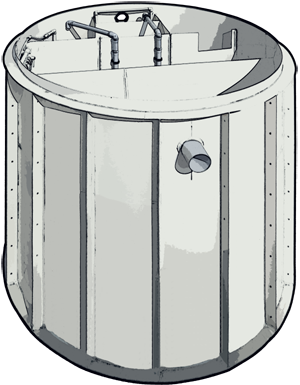 Medium and large wastewater treatment systems VH and VH - L are designed for larger objects such as apartment buildings, plants, hotels and other facilities with adequate capacity and production of wastewater.
Wastewater treatment system can be done as a separate bioreactor or in a so-called technological waste treating line where the reactor is completed with other devices (including a retention tank , sludge tank ,cleanerd level, grease separator, etc . ).
Each device , respectively . technological line is designed based on specific conditions , customer requirements and project specifications.
Possible grades of technological line
* Mechanical pretreatment
- within biological reactor is made by rake basket
- within technological line can be realized by pumping shaft , rakes ,or rake screen with the possibility of manual or mechanical wiping
* Biological treatment
- consists of compact bioreactor with installations ( denitrification , nitrification and separation area ) and aeration, recirculation, if necessary cleaning systems and blowing aggregations.
* Tertiary final purification
- it is possible to choose based on requirement for superior output parameters within technological line . The form of tertiary final purification depends on the requirements of the output parameters . Usually consists of a tank with the necessary technology.
* Sludge management
- it creates the storage within the technological line. In the extended version frequently supplemented by sludge drainer. It is recommended to select at least in its basic version.
* Electromotive installation
- manifold with control panel and connection to machinery equipment of bioreactor and technological lines.
* Automatic control
- Can be implemented in various forms based on customer requirements . The most common is composition of flumes, ultrasound probes, transducers, oxygen probe, frequency inverters , etc.
Technical specifications
The basic device of wastewater system is usually aerobic, or anaerobic reactor devided by internal partitions into individual functional areas.
In these areas there is a gradual degradation of organic pollution in influent wastewater. Biological reactor is usually circular or rectangular and it is made of materials resistant to sewage water ( preferably polypropylene ).
Size of the source

(EO)

Parameter

Values

avg.

max.

avg.

max.

50 - 2000

BSK5

30

60

15

30

CHNSK

135

170

65

85

NL

30

60

15

30

2001 - 10 000

BSK5

25

40

10

20

CHNSK

120

170

55

80

NL

25

55

10

20

N-NH4

20 / 30

40 / 40

10 / 15

20 / 20


Terms of delivery
Supply and installation of wastewater treatment plants over 50 EO shall be made based on the signing of the contract between the investor ( client ) and the supplier ( contractor ) . Guarantees , terms and method of the works as well as deadlines and method of payment , if necessary the connection between the client and the contractor is the subject according to the mutual agreement.
Technological parameters
The quality of treated water from bioreactor loaded by effluent water and pollution in accordance with applicable legislation,(given in the table below) . When requesting lower limit values for indicators of of pollution of waste water , or specific customer requirements is possible ( based on customer specifications ) to supplement the biological reactor with the necessary equipment.
Waste water treatment system VH achieves high cleaning efficiency ( up to 95-99 % ) , at low power consumption.