Tanks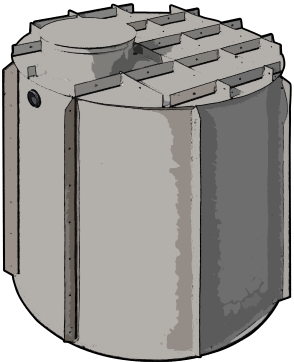 Plastic tanks are widely used at home,in industry or in services.
They can be found in construction, engineering, food processing, agriculture, chemical industry, water management ,etc.
Often used as:
• storage tanks for liquid, solid and bulk solids (water tank, sedimentation tanks, lagoons, tanks, water tanks, holding tanks for chemicals, etc.)
• tanks to place various technological equipment
(inspection, sewer, water meter shafts, etc.)
• control shafts, completion of water well drilling.
Concept
The tanks are made of polypropylene plates. The most common are of cylindrical or rectangular shape and can be used as an underground or ground tanks.
Standard equipment of the tanks may be inspection inlet (usually with a diameter of 600 mm) with a plastic cover and possibly with the locking. Dimensions of the inspection inlet and plastic lid can be adjusted according to customer requirements.
If necessary, you can replace the plastic cover for steel, cast iron, or concrete one, all in terms of customer requirements and European legislation.
The tank can be made of technological transfers and openings (inlets, outlets) according to customer requirements. Transfers can have different design according to what are intended.
After checking the tank the watertightness is attested.
| | |
| --- | --- |
| The parameters of the most commonly used material | Value |
| Modulus of elasticity in a move | min. 800 MPa |
| Strength at balk of the glide | min. 20 MPa |
| Proportional elongation at break | min. 5% |
| Flexural strength | min. 26 MPa |
| Density | 900 kg.m³ |
| Vicat heat resistance | 152 °C |
| Melting point | 161 °C |
| Charpy notched impact | 6,4 kJ.m² |
Plastic tanks advantages
• low weight
• long life
• quick and easy installation
• easy installation
• 100% leakproof (including connection of transfer technology)
• shape and colour variation
Production and assembly
Plastic tanks are made of PP plates. Plastic plates are connected by welding extruder aggregates, or hot-air hand tools. During production and assembly of tanks there is no fundamental change of PP plates features. The final output control is usually watertightness test in accordance with STN 75 0905 and after successful completion of the product "Watertightness certificate"is made out.
Storage and Handling
Storage of input components and semi-finished productis tanks is carried out according to the instructions of subcontractors, so there is no change in the features of the material. Storage and handling of the finished tank has to be carried out as not to damage the tank (particularly at temperatures near the freezing point).
Recommendations for fixing tanks
Fixing equipment can be carried at temperatures above 5 ° C. At lower temperatures there can be a danger of damage. Check before fixing the device. If you install iinput and drain canalisation - must be placed in the non-freezing depth, or to be warmed (the need for insulation against freezing is solved by project designer). All-plastic tank is recommended to be placed to a trench on the cleaned concrete base (devoided of small stones and dirt) manually using straps.

WARNING!
The tank must not be exposed to falls, shocks, or other burdens that would cause mechanical damage.